The combination of practical yet flamboyant and culturally-mixed attire is one of the things that intrigues me about the lifestyles of the Great Lakes voyageurs and fur traders. Whether it was the decorated sash at their waist, their leggings and tall beaded moccasins, an occasional feathered hat, or the magnificently thick point blanket sewn into a capote for the cold winter nights, I find it all very decorative and appealing even to my 21st century eye. Apparently modern designers do too, for some aspects of their clothing have only grown in popularity, both in form and fashion today.
A hunter dons the traditional point blanket capote in this painting "Following the Moose" by Cornelius Krieghoff, Brooklyn Museum, Wikipedia Commons
Of all the attire that captures the era and the style, the capote is probably the most notable. Made of the famous Hudson Bay point blanket, it was easy to sew into a coat that could protect from the frigid northern elements. First however, you might wonder what a point blanket actually is. Even if you've seen them, you might wonder why they're called that.

Point blankets originated, historically, as the heavy wool trade blankets that voyageurs and traders exchanged with the First Nations people for beaver pelts. The blankets were much in demand as they were waterproof as well as warm. In the 1700s, point blankets accounted for 60% of trade goods on the American continent. You've likely seen many pictures like this of native peoples enjoying the warmth such blankets offered.

Painting of an Indian woman by Anna Mariea Von Phul wikipedia commons
Point blankets were--and still are--stitched with lines 3-6 inches long on one edge that indicates their size. Hence, a 4-point blanket is larger than a 3-point blanket. There are also, less commonly, half-lines (2-3 inches) for those odd sizes in between, like a 3-1/2 point blanket. When folded up and shelved with the lines facing outward, it was easy to tell what size the blanket would be. Oh, that we had such a simple system for discerning between king, queen, and full-size sheets!
Hudson Bay 4-Point Blanket, image from icollector.com

The Hudson Bay company originated the point blanket trade, and you can still find authentic Hudson Bay blankets today, recognized by the Hudson Bay emblem sewn into one corner. However, if they're of the old, collectible variety, they'll set you back hundreds if not thousands of dollars. Once the fur trade died out around the Great Lakes, the Hudson Bay company went on to develop other goods for sale, and today they are much like any catalog or online department store. You can find modern versions of the Hudson Bay point blankets--still spendy--and imitation versions from other companies as well.

If you are particularly canny with a sewing machine or needle, you can even make your own. There are many instructional videos, blogs, and pdfs online to guide you. Me...I'd like someone to make one for me. Here's my dream coat (found at TigerRagVintageNola on Etsy):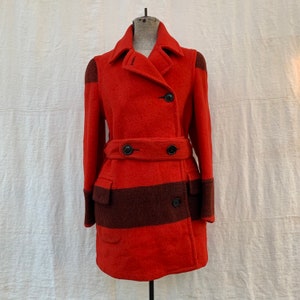 Maybe someday...
Do you happen to own a point blanket or even have an imitation tucked in a chest or covering the foot of your bed? What do you think of the style of the blanket capote? Is it something you could imagine yourself wearing?
Stay warm out there! It's only February! And Happy Valentines to all the Colonial Quills readers and writers!
Naomi
Warm up inside with romance, adventure, and a glimpse into Lake Superior history.
Mist O'er the Voyageur and Song for the Hunter
Both on Kindle Unlimited as well as in paperback.