The waterways along the Great Lakes aren't given the respect that they deserve for America's Colonial Era. People tend to focus on Boston, New York, and Philadelphia. But here are some interesting facts to point out for the 350th Anniversary of Sault Ste. Marie, Michigan:
In 1623,

Étienne Brûlé visited what is now Sault Ste. Marie, Michigan, and named it "Sault de Gaston" in honor of Gaston, the brother of King Louis XIII of France. (Sault meant either waterfall or rapids.)
The Dutch started the first settlement in New Netherland (New York) in 1624.

The Puritans did start not arriving in Boston until 1630.

In 1668 the French Jesuits missionaries started the first settlement where Étienne Brûlé had visited and named it "Saults de Sainte-Marie, meaning St. Mary's Falls.

Pennsylvania didn't get its charter until 1681

The War of 1812 touched Sault Ste. Marie with the American burning and looting of the British Northwest Company's fur trader post there.
The area was first under the control of the native Ojibwe, Sauk, and Ottawa tribes who migrated north in the summer months when the whitefish were plentiful.
The French came and traded with the native tribes, they introduced things like metal knives, pots, woven cloth, guns, and gunpowder. The tribesmen traded beaver and other hides which were much in fashion in Europe as well as food. The French claim on the area spanned from 1623 - 1763.
The Brittish drove out the French and alienated the natives. Their tenure in the area was relatively short, from 1763 - 1814.
The Americans claimed the area in 1814 at the conclusion of the War of 1812. Aside from the fortune in furs, the area proved to be rich in other natural resources like iron, copper, fish, and lumber.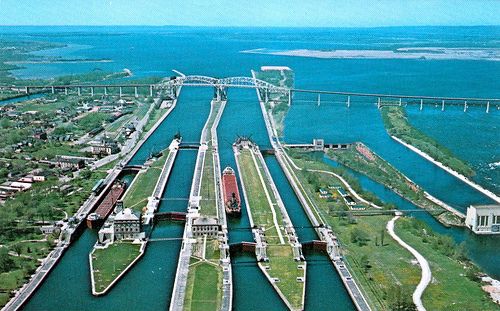 Today, Sault Ste Marie operates the only lock system that allows freighters to move between Lake Superior and Lake Huron. Millions of tons of cargo and raw materials - many vital to our national interests and security - pass through the Soo Locks each year.
Pegg Thomas is a native Michigander and avid Upper Peninsula fan. She and husband Michael plan to return to "Da Soo" (Sault Ste. Marie) when he retires in a few years. Both attended Lake Superior State University - back when it was Lake Superior State College - and look forward to moving back "home."
PeggThomas.com